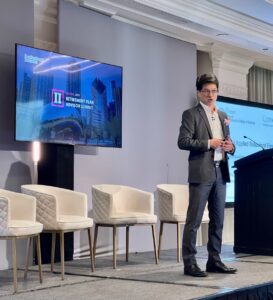 Cornell University, Dyson School of Applied Economics and Management, Graduate Special Topics in Applied Economics and Management (AEM 6940), Spring 2023
Cornell University, Dyson School of Applied Economics and Management, CEMS Masters in International Management Project (AEM 6993), Spring 2023
Executive training TBA, Applied Behavioral Economics for Finance, Marketing, and General Decision Making, prospective April-May 2023
Cornell University, Dyson School of Applied Economics and Management, Research Seminar I (AEM 6991), Fall 2022.
Corporate presentation TBA, Behavioral Finance and Applications for Wealth Management, Advisory, and Banking Services, prospective September-October 2022.
Corporate podcast interview TBA, Behavioral Insights and Personal Finance in a Modern and Volatile World, prospective August-September 2022.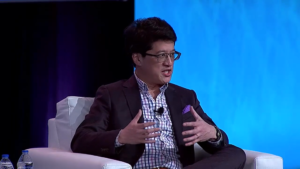 Institutional Investor Retirement Plan Advisor Summit, Chicago, IL, Keynote on Trends in Applied Behavioral Finance, July 19, 2022
UCL, London Judgment and Decision Making Seminar, Investigations of Temporal Reframing and Savings in the Gig Economy, June 1, 2022.
Insights 2 Outcomes, Chicago, IL, Reducing the Savings Gap: Adding Information Architecture to the Behavioral Economics Toolkit, Prospective May 4, 2022
Behavioral Economics in Action at Rotman, Beyond the Ivory Towers: Careers for Ph.D.s Outside of Academia, April 7, 2022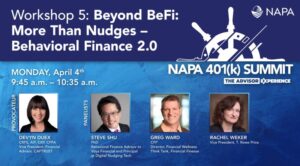 NAPA 401(k) Summit, Tampa, FL, Beyond BeFi: More Than Nudges – Behavioral Finance 2.0, April 4, 2022
Cornell University, Dyson School of Applied Economics and Management, Applied Behavioral Economics in Finance and Marketing (AEM 6150), Spring 2022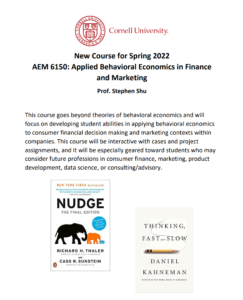 Cornell University, Dyson School of Applied Economics and Management, CEMS Masters in International Management Project (AEM 6993), Spring 2022
Personal Finance Speaker Series, Conversations on Integrating Behavioral Finance Into Education, November 18, 2021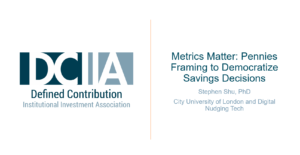 Defined Contribution Institutional Investor Association (DCIIA), Academic Forum, Metrics Matter: Pennies Framing to Democratize Savings Decisions, November 17, 2021
Financial Literacy Leadership Conference, Behavioral Finance Panelist on Cryptocurrency and Investing Apps, November 10, 2021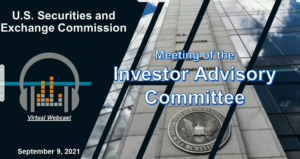 SEC Investor Advisory Committee Panel Discussion, Reimagining Investor Protection in a Digital World: Behavioral Design of Online Trading Platforms, September 9, 2021 (web archive playback at 53:20)
Cornell Tech, Applications of Behavioral Finance in the Digital Age, April 28, 2021
Honolulu, Oahu, Corporate Event, Using Behavioral Economics to Democratize Savings, October 30, 2019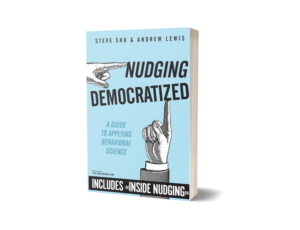 UCLA Anderson School of Management, RSM Program, guest speaker on Nudge Units: Applying Behavioral Science, August 27, 2019
UCLA Luskin School of Public Affairs, course on California Public Policy Challenges by Senate Pro tem Emeritus Kevin de León, guest speaker for class on Retirement Security, April 29, 2019
UCLA Anderson School of Management, MBA course on Choice Architecture in Practice, guest speaker on Nudge Units: Getting Started with Consulting-Based Approaches, April 11, 2019
Pasadena, California, Regional Corporate Event, Using Behavioral Economics to Democratize Savings, March 27, 2019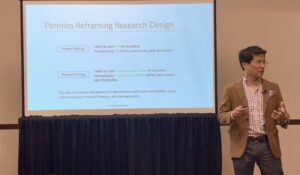 City, University of London, Cass Business School, Research on Microsavings Under Uncertainty in the Gig Economy, March 4, 2019
Los Angeles, California, 401(k) Fridays, What's Next For Automatic 401(k) Plan Features & Behavioral Finance?, March 1, 2019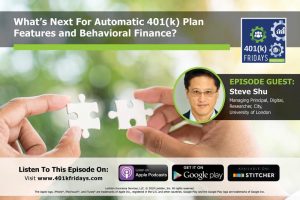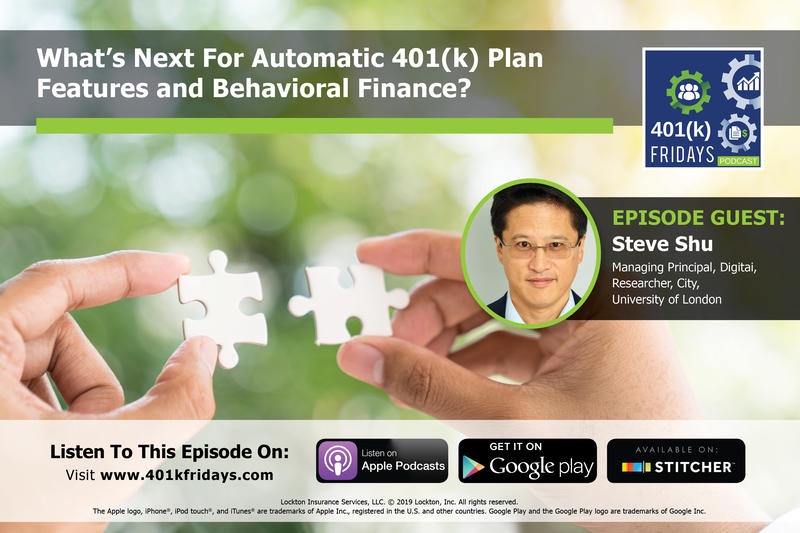 Indianapolis, Indiana, National Corporate Event, Using Behavioral Economics to Democratize Savings, January 29, 2019
City, University of London, Cass Business School, Research on Pennies Per Dollar Reframing and Savings, September 3, 2018
UCLA Anderson School of Management, Executive MBA program course on behavioral economics and marketing, guest speaker on Implementing Behavioral Science Initiatives, August 16, 2018
UCLA Anderson School of Management, PhD Seminar on Nudging and Field Research: Birdseye's View from a Practitioner-Researcher, May 2, 2018
Allianz Global Investors, Behavioral Finance Certification Program Training, June 23-24, 2016
Allianz Global Investors, Behavioral Finance Certification Program Training, October 15-16, 2015
Allianz Global Investors, Behavioral Finance Certification Program Training, June 8-9, 2015
Allianz Global Investors, Behavioral Finance Certification Program Training, October 9-10, 2014
Allianz Global Investors, Behavioral Finance Certification Program Training, June 17-18, 2013
Allianz Global Investors, Behavioral Finance Certification Program Training, October 11-12, 2012
Allianz Global Investors, Behavioral Finance Certification Program Training, June 11-12, 2012