The example below is a working draft of material related to the Behavioral Science Casebook project and is intended to be used for educational purposes and helping both students and working professionals to think about digital designs and customer experiences using behavioral science concepts. High-level behavioral audit comments and potential approaches to consider are provided in some cases (for instructor purposes).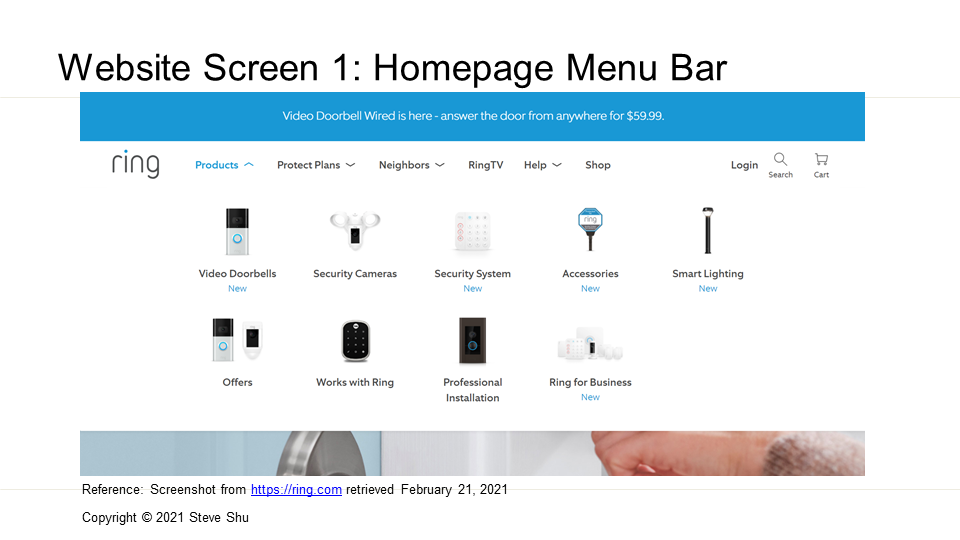 Things to Think About
Goals

What is the apparent priority in terms of product versus service sales?
To what extent does this website target more knowledgeable versus less knowledgeable users?

Choice Architecture and Design

What are some key elements of the design?
How do the design elements behaviorally address user attention?
How do the design elements support user decision-making?
How do the design elements inhibit user decision-making?
Behavioral Audit of Website Screen 1 (Instructor Notes)
Goals

Products appear to be the priority, although some space is given to services.
For example, products appear as the first item in the menu bar (primacy effect).
The site appears to target somewhat more knowledgeable users as there is a fairly long list of choices to navigate without assisted help.

Behavioral Architecture and Design

The design includes a long menu list (possibly triggering choice overload).
Photo thumbnails garner user attention although some photos not intuitive (e.g., not aligned with System 1 fast thinking, such as "Offers" and "Professional Installation").
More than half of the menu items have a label of "New" which grabs attention, but to what extent is it clear what the label means?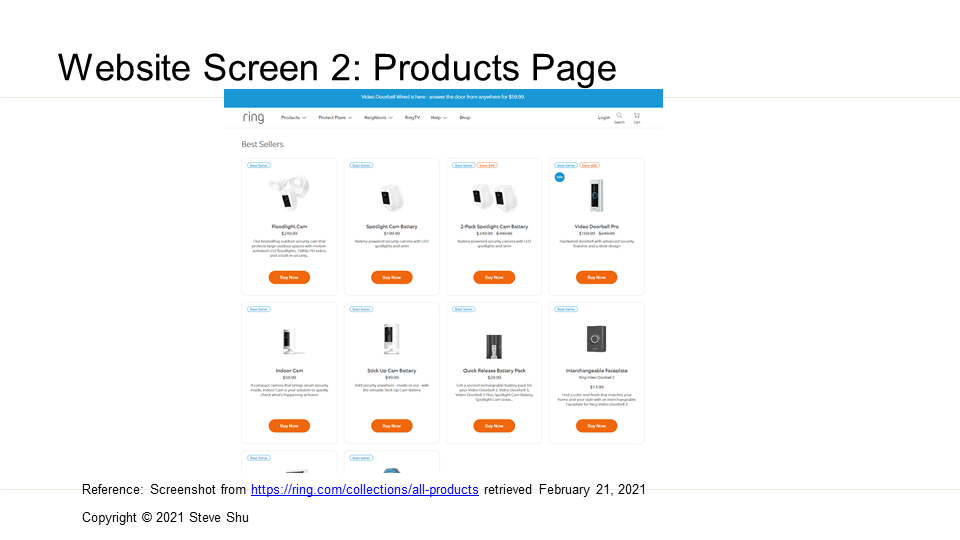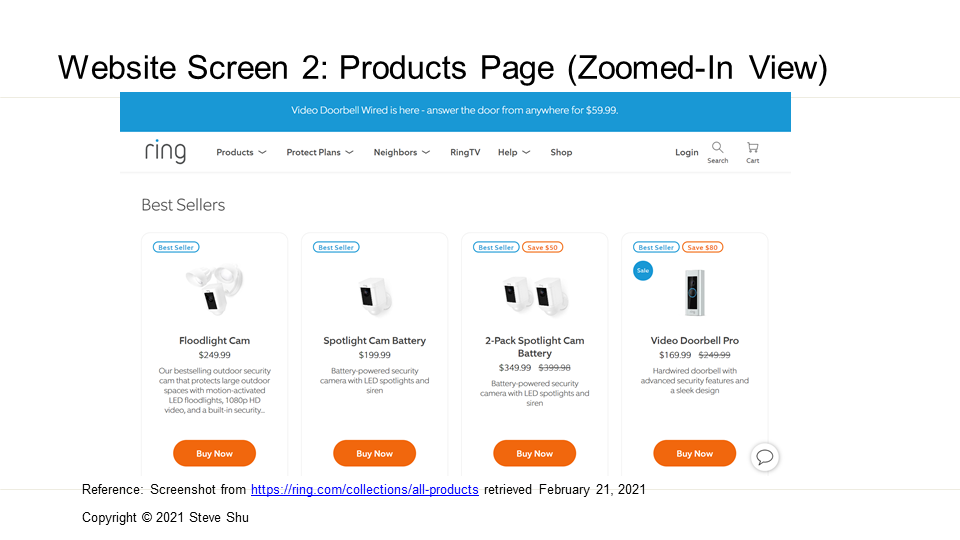 Behavioral Audit of Website Screen 2 (Instructor Notes)
Goals

Best sellers are given priority, but it is unclear what product priorities are given within the category.

Behavioral Architecture and Design

"Best Seller" and "Save $X" graphic elements highlight attention points.
Unclear how the blue circle "Sale" icon differs from the "Save $X" label.
List prices are provided as reference points with sales prices also listed.
Orange "Buy" buttons make it clear where actions can be taken to buy, although it is not clear whether users have enough information at this point and are ready to buy.
Potential Behavioral Approaches to Consider (Instructor Notes)
Reduce choice overload by creating a better way to navigate based on their behavioral need (e.g., users who know what they are looking for versus those that need help or want ideas).
Reduce choice overload by changing the presentation method (e.g., fewer items per page or per line).
Revalidate goals and measurement outcomes
Create research and testing strategy, e.g.,

control versus challenger case of simplified design (A/B test)
research to assess how well website works for different users